Okay, real quick, because I'm in the middle of playing Final Fantasy VIII and I have a town to explore (go ahead, judge...) - this is Kleancolor City Never Sleeps, one of the Kleancolors I bought the other day...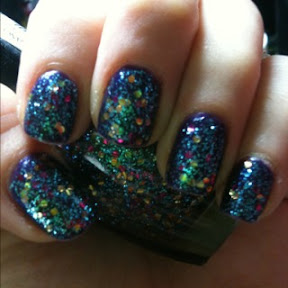 Ain't she purty?
I like. I knew I would when I bought it. I've always loved multicolored glitters. You guys know that. I admit I was too scared to wear it on its own, though, so I snuck two coats of LA Colors Morning Glory underneath, which is a deep purple jelly with blue shimmer.
City Never Sleeps is small blue and medium sized copper, gold and fuschia hex glitter in a sheer purple jelly base. I only did two coats of it overtop of Morning Glory, and while I'm pretty confident you could get away with layering this to density, I was afraid to :p having never used it before...
My sister was next to me as I was applying it, and she said, quote:"what smells like burning plastic??" Yay, Kleancolor. But i so don't care. This one is gorgeous and I love it, the last one I wore I loved, and I can't wait to wear the rest of them. And they were so inexpensive!
This has already taken a lot longer than I intended. I mean like, a lot. I was literally just going to put the name of the polish and one photo, and that was it :p. (Yeah right...). But I really want show you some stuff I got the other day... These are gonna be the worst, most horrible crappy photos in the world, you guys...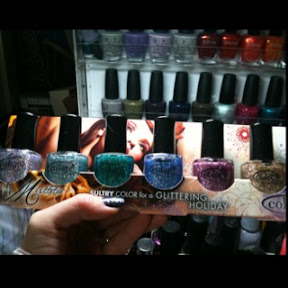 Color Club Beyond The Mistletoe set! I got these at Winners, not the beauty supply, so they have the cheap caps and no labels. I can't even begin to tell you how much that bugs me... According to the box, this is (l-r): Beyond The Mistletoe, Holiday Splendor, Sugarplum Fairy, Gingerbread, Candy Cane, Jingle Jangle.. and a boring clear topcoat that I left out of the photo.
Color Club Backstage Pass set. L-R: Take The Stage (not to be confused with the more orangey-gold OPI Take The Stage), Wish Upon A Rock Star, Backstage Pass, Platinum Record, It's A Hit!, and Fame And Fortune. This was in a clearance section and two of them are normal and have labels, but I still don't really know why I bought this. Look how much bigger the normal lids look - can you tell which two have labels? I will probably never wear any of them except for Wish Upon A Rock Star..
China Glaze Lorelei's Tiara, Some Like It Haute, and Marry A Millionaire, from the Marilyn Monroe-inspired Eye Candy collection. Love these. Want the red one.
Orly Androgynie and Fowl Play. Although I already own two Merry Midnights, I currently cannot find either of them :(. Again, found these at Winner's for the inflated price of 7 bucks each :-/
Essie Absolutely Shore and Butter
Seattle
London No More Waity, Katie. I feel the same way about NMWK as I do about Kate Middleton - I like it, but I feel I haven't really given it much of a chance yet. And AS I've just wanted and never been able to find elsewhere. I also put in an order for BL Wallis and Black Knight while I was there - "there" being Shifeon, in case anyone cares. If you live in Vancouver and you're a Robson St. regular, you've been here, and, well, you know how convincing their staff can be :p
Okay, that's it. Monsters and junction abilities are calling me. Again, make that face at me all you want, I don't care - I love Final Fantasy :p. I'd be all over a themed polish collection o' THAT :D
Location:A City That Does Sleep